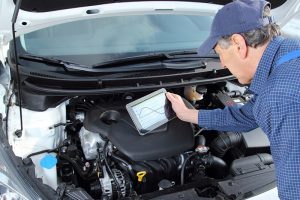 When your vehicle's engine is not working the way it should, it can cause significant problems if you continue to drive and ignore the issue. Thankfully, when your engine is struggling your car will generally tell you through the 'check engine' light. If this light appears on your dashboard, it is informing you to take immediate action, otherwise you could find yourself in a dangerous situation by driving further.
Despite the seriousness of the check engine light, there is no reason to panic. When the light comes on, simply book an appointment as soon as possible. It is also important to be aware that the check engine light is not the only indicator of engine troubles. By knowing the common signs, you will not have to just hope that the check engine light will come on when it is supposed to.
Common Signs of Engine Failure
Although the check engine light provides a helpful indicator that your engine needs professional attention, it is best to keep an eye out for the other common signs of engine troubles.
One of these signs is a knocking noise that comes from the engine, under the bonnet of the car. This noise will often increase and decrease depending on how hard the engine is working. This sign can point to the failure of an engine bearing. Engine bearings play an important role in supporting the engine's movement. If it stops working, the engine could seize or suffer significant damage.
Another sign is when a significant amount of smoke comes out of the exhaust of your car. No smoke is normal, if there is smoke you should book an appointment with a mechanic. If the smoke is blue, it means that oil is burning. White smoke suggests that coolant has gotten into the engine's combustion chamber. Black smoke is usually a sign that too much fuel is burning.
Is your vehicle not performing as well as you expect it to? This may be another sign of engine troubles. If you have noticed a drop in fuel efficiency, struggles to get your car up to speed or a requirement for warm up time before driving, it is probably best to have your engine serviced. When experiencing any of these issues, try to have them addressed as soon as possible. It might take only a simple tune up by a professional, but it can make all the difference.
If you ever find yourself stopped at a red light and your vehicle struggles to keep running, it is also a good idea to visit a mechanic. Trouble keeping your car running while stopped is a common sign of engine troubles and should be fixed quickly.
We Are Engine Diagnostics Experts
If you are in need of an engine diagnostics test, simply bring your vehicle to the experienced technicians at Anthony's Car and Head Centre. We utilise the best fault finding equipment in the business to discover the source of your engine problems and fix them as efficiently as possible. 
Our team has more than 100 years of combined experience, with the right tools and knowledge to diagnose all kinds of vehicle faults. If you have been experiencing engine troubles, we will run a thorough car diagnostic test to find the cause of the problem . This will provide us with any fault codes your vehicle has kept track of, allowing us to solve the issue with your engine.
When it comes to vehicle safety, you can never be too careful. If you notice any of the signs of engine trouble or the check engine light appears, the Anthony's Car and Head Centre team can run all of the necessary diagnostic tests and complete the repairs to get you back on the road safely.
Is Your

Check Engine Light

Showing?

We take the quality of your car and its engine seriously. Our mechanics have extensive experience with running diagnostic services, working out exactly what a vehicle needs to be working at its best again. We will be able to quickly determine what your engine's issue is and get to work fixing it.

As part of the Bosch Car Service Network, our workshop is guaranteed to meet the standards set by Bosch across all their Australian workshops. All our work comes with a quality guarantee, so you can rest assured that you will be getting the absolute best with us.

Dealing with frequent problems with your vehicle and its engine can be extremely frustrating. Using our engine diagnostic tool, we can work out the issue and fix it. For the best engine diagnostics Bega has to offer, get in touch with our friendly team today. 

If you have experienced any of the warning signs that suggest you might have engine troubles, or you check engine light appears, get in touch with the Anthony's Car and Head Centre team on 0264922442. Alternatively, you can book an appointment online.
Contact Us: